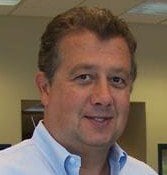 Current:
A Momentary Look In The Rear-View Mirror
It's a memorable time at Grand Ledge Ford Lincoln this week.  We hit a milestone anniversary!  We've been in business for 15 years, and it's been quite the joyous adventure!  The road to 15 years in business has multiple terrains.  Sometimes, the road is smooth, and sometimes the road is rough.  But we keep moving, and make sure to enjoy the ride.

It's also a time that I've reflected on who has been riding with me on this journey.  My Assistant General Manager, Marianne, Dan, in my parts department, and Tony in service have been on this journey with me from the start, and I couldn't have made it this far without them.  I also think back on the Grand Ledge Ford family as a whole; and how we rally together to help our own.  Such is the case with our sales consultant Mitch.  We held an internal fundraiser for Mitch as he recovers from some medical issues that affected him over the summer.  We wish him a speedy recovery.

Now time to start looking forward to the next 15!
Drive happy, because we're always working hard for you.
-Barry Merrill 
Past Editions:
Don't Deal With A DIC (Dealer Incurred Charge)
Ahh, the dreaded fine print.  It seems like it's everywhere these days.  Sometimes it seems that the less fine print listed, the more suspicious one should be.  Have you ever wondered what fine print thickens the bottom line on a deal?


While I cannot speak for all dealers, at Grand Ledge Ford, our fine print simply details out our math, so there is nothing to be surprised about.  We list the incentives that makes up the price of the vehicle we advertise.  Usually we'll also list a stock #, and vehicle identification number so you know we actually have vehicles that qualify.  Then, of course a breakout of the fees, interest rate and/or lease terms.

I know what you're thinking; "There you go Barry, you're adding fees as well!  You're just as bad as all the others!"  Well, I know we operate a cut above the competition, but yes, there are fees.  The word fees just puts a lump in your stomach, doesn't it?  Fees... they are everywhere, and we're convinced that we're the only one that pays them.

The truth is, we all pay them, me, you, family, and friends.  If any dealer says they are waiving fees, please know they masked that amount somewhere else.  But, there are fees that you should be aware of, and question when you read the fine print on the deal presented to you.  Legitimate fees that you can't escape include sales tax, title fee, and a plate transfer fee.  Those are all required by the state of Michigan, and they have to be paid by law.

The fees that should make you question your dealer is the Dealer Incurred Charge or DIC as it is often abbreviated in advertisements.  That is an arbitrary fee many dealers will add.  Many use it to make up for that extra generous trade-in amount they offered you, or for that price that can't be beat.  It's deceitful, and a practice we don't follow at Grand Ledge Ford Lincoln.  When you purchase a vehicle from Grand Ledge Ford Lincoln, our sales consultants, and finance team will make sure every charge is explained to you, and answer any questions you have so you know we are operating with transparency.
Dirty Dealership... Dirty Deals (9/28/17):
Have you ever had this experience; you go online and see a product or service you're searching for at a great deal? Yet, when you get there, things just don't seem quite right? It's always little things that send the red flags up in your mind. It's different for every business. For me, the common denominator I've noticed is cleanliness. It could be old hair missed from a haphazard sweeping at a hair dresser. Or an accountant with a cluttered stack of receipts from a previous client on their desk when you meet. A furniture store with debris from people's pockets left on the merchandise. If a place of business can't care enough to keep their business tidy, how are they going to treat their customers?
This is especially true in the world of automotive. Dealerships that cannot be bothered to keep their space clean and make your comfort a priority, won't make you a priority in making sure you are getting a great vehicle at a great deal. At Grand Ledge Ford, our family members take pride in what they do. Everyone from our cleaners, to our product knowledge specialists, to myself, strive to present ourselves, and the business as a clean-dealing organization we've built our reputation on.  See for yourself, stop on by sometime.
Making Sure Your Dream Car Isn't A Nightmare (9/21/17):

You've spent hours online searching for the car of your dreams, you've contacted the selling dealer to confirm it is in stock. When you visit that dealer, there are four things that should done before buying a preowned vehicle at every dealership you are working with:


Ask for a vehicle history report on the vehicle. It doesn't have to be Carfax, AutoCheck has good reports as well. With all the hurricanes we've had, this is especially important now. Also be wary of Canadian vehicles. Look at the undercarriage of Canadian vehicles for excess corrosion. 


Ask the dealer for the results of the inspection they did on the vehicle and what repairs were performed.  A reputable dealer will show you a repair order that details this request. If you are told nothing was done to the car find another dealer or have an independent technician inspect the vehicle.


Know what warranty is included with the vehicle. It could have balance of factory warranty, or be a dealer provided drivetrain only warranty. Know what's covered and what the deductible is. If the car is as is, the results of the inspection is very important.
 

Look at the dealer's online reviews you are working with before you buy. That will speak volumes about what you can expect from your dealer if there is a problem after the deal is done.


The lowest price isn't always the best deal. Many customers searching for the lowest price vehicle end up spending thousands more later because the car wasn't properly reconditioned for resale.  See the difference for yourself here.
Drive happy, because we're always working hard for you.
-Barry Merrill 
Don't Be Sunk With A Flood Damaged Car (9/14/2017):
   First off, my heart and prayers, among those of the Grand Ledge Ford family go out to the victims of Hurricane Harvey, Irma, and possibly Jose.  We cannot imagine what they are going through.  These acts of nature are disastrous, and those affected must find the courage to keep calm, and keep going.  Those not personally affected must find the compassion to help out however we can.
   As you've seen on news reports, the flooding caused by these storms will be in the billions.  Second to homes, the priciest property destroyed in these areas will be vehicles.  In the coming months, those looking for a new-to-them vehicles are going to see some great deals on vehicles, and unscrupulous sellers will not disclose that great deal will be on a flood damaged car. 
   I'd advise anyone looking for a used vehicle to NOT go-it-alone.  Order a CarFax® report, and consider consulting with a mechanic you trust with a lift to thoroughly examine under the vehicle for flood damage.  Just know, that when you shop for a pre-owned vehicle at Grand Ledge Ford, we never buy flood damaged cars.  We only buy from credible sources, and thoroughly inspect every trade we take in, before it makes its way off the lot.  See for yourself here.
Drive happy, because we're always working hard for you.
-Barry Merrill 
Shopping on the Internet for a new or used car is standard practice these days to find the exact vehicle you want at the best possible price. But some dealers' Internet prices don't disclose or include extra charges added to the car after you've made a deal. The most common is "Dealer Incurred Charge"  or DIC. This charge ranges anywhere from $299 to $495 and it's simply added dealer profit. Double check your paperwork when you are presented buyers order to make sure the DIC fee hasn't been added. Customers have told me even when they negotiate an out the door deal DIC fees are added. They hope you won't catch it. By the way: Grand Ledge Ford never charges a DIC fee.
Pre-Owned Secrets
There are a lot of Canadian pre-owned vehicles being sold in this area. Dealers are taking advantage of favorable exchange rates buying these used vehicles in Canada and making great profits on them when they bring them back to the US. But they have drawbacks. We are seeing many of these vehicles in our service department for repairs related to being driven in a climate with long winters. The undersides of these vehicles are often very rusty and recall work is rarely completed. Protect yourself by insisting on a vehicle history report on any pre-owned vehicle you are considering. And most important: crawl, if you have to, under the vehicle to check it for rust. By the way: Grand Ledge Ford does not buy Canadian cars or trucks for resale to the public.
One Dealership Makes The Difference
Grand Ledge Ford has maintained a proven track record with both the public, awarding us with 13 Presidents Club Awards (every year the dealership has been available), and with Ford Motor Company, with multiple recognitions for both sales and service.
Experience the difference when you arrive at our Lansing-area dealership!